Well, if I'm wondering about that every now and then, I'm sure some of the more loyal readers of my blog must be wondering the same thing, given the sparse nature of blog updates in recent months. The answer is, since I've started working for Developer Express, I've been doing that many different things that it's just hard to keep track of them, and I haven't found myself with the free time needed to continually update my blog. But I see that this is a Bad Thing and I'll try to do something about it. So what have I done? Let's see:
I've worked on concepts, testing, samples and documentation of eXpressApp Framework, which was made available as a CTP on January 12th. Since then we've been getting great feedback from our subscribers (who have access to the CTP) and I've spent a lot of time investigating issues, exchanging posts with customers and coordinating things with our development teams. Obviously development has continued since we released the CTP version, so even more plans to be made…
Since the beta of XPO 2 came out, I've spent a lot of time with customers testing this product, and also with internal discussions about the final feature set, some article writing, sample explaining, … As with eXpressApp Framework, feedback has been great and we'll be able to make the final product a lot better even than the beta was. Just recently I wrote a DXCore plugin to support XPO 2 in the final release… I hope that feature will actually make it. And no, I'm not telling what it is 😃

Obviously XPO 2 is an important base of eXpressApp Framework, so we need to be careful to coordinate things between these two projects.

XtraCharts and the XtraLayout control have also been released into their beta phases and I've done some testing on these releases. Specifically XtraLayout is another important component in the Windows Forms part of eXpressApp Framework.
I created a DXCore plugin that can store my Window/Tool Window configuration in VS and restore it later - very nice to work with multiple window configurations. For example, on my multi-monitor setup I typically use VS stretched over two of the three screens. But when I just want to edit some XML, I like to have the window on only one screen and get rid of most of the tool windows I normally use.

I offered making this plugin available in the DXCore plugins newsgroup, but as I got only one reply to that post, I haven't taken the time yet to actually do this. Drop me a mail if you want to vote for having this plugin available as a download 😃

I'm currently working on a DXCore plugin that will let me ink on my VS editor with my Tablet PC.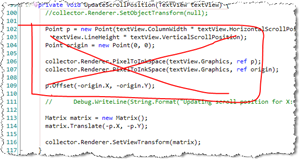 I'm currently working on an article about DXCore for German dot.net magazin. Not sure when that will be published.

DevWeek 2006 is here in London Feb 20-24. Looks like I'm going to be there – if you're around, feel free to drop by the Developer Express booth for a chat.

As far as I know, I'm going to do a talk about CodeRush and Refactor! at the March 14 meeting of The Developers Group in Hammersmith. Their official agenda for that day is not yet up, that's why I'm saying "as far as I know" 😃 Should be interesting though - the talk will not be too long and it will provide an overview over functionality offered by these two great products.

Several other things I can't currently tell about 😉